Carrot and Orange Soup Flavoured with Ginger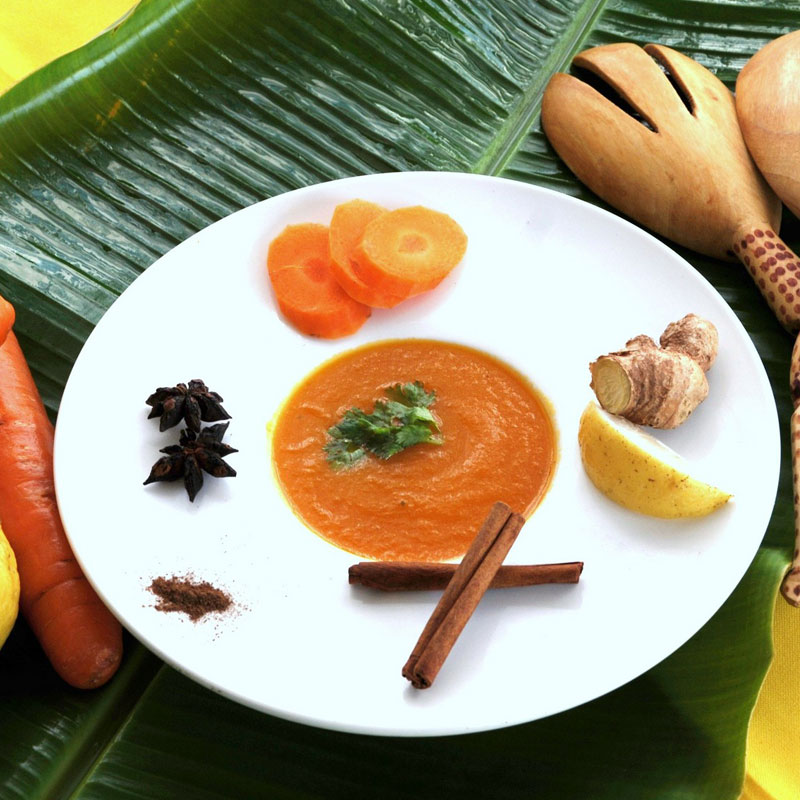 Course – Appetizer
Serves – 6 people
1 small Onion
2 lbs Carrots
2 cloves Garlic
1 inch Ginger
2 tbsp Flour
2 qts Chicken stock
2 cups Fresh orange juice
1 bunch 'Fever Grass' (lemon grass)
1 each Cinnamon stick
1 tbsp Crushed Cilantro seeds
1 tsp Cumin
1 each Orange 'nailed' with 2 cloves
Enough Coconut Oil to sauté
Salt & black pepper to taste
Dice carrots and onions and chop the garlic and ginger.
In a soup pot, sauté the vegetables in some coconut oil and let them simmer on a low fire for about half an hour.
Add the flour and continue simmer for 10 minutes. At this point, add the cold chicken stock and orange juice. Bring the soup to boiling point and allow to slow cook for another 30 minutes.
Transfer the soup to a blender, and puree until you have a substance with a smooth texture.
Transfer the soup back to the pot and add the bunch of fever grass, cilantro seeds, cinnamon, cumin, and the orange in which you have nailed 2 cloves.
Cook for another half hour, strain the soup and add salt and black pepper to taste.
Serve with some chopped cilantro and add coconut milk in the bowl for a creamier texture.