Curry and Coconut Soup with Poached Fish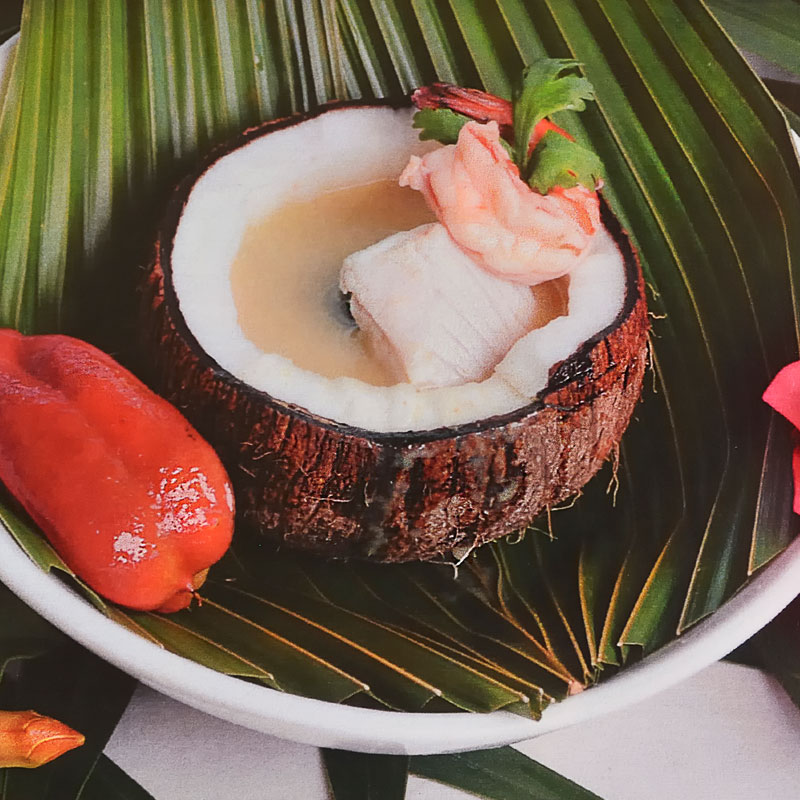 Course – Appetizer
Serves – 6 people
1 small Onion
4 cloves Garlic
1 inch Ginger
Coconut oil to sauté
1 table spoon Fresh Curry Paste
1 tea spoon Curcuma (tumeric)
1 tea spoon Cumin
2 table spoon Flour
½ cup Fresh orange juice
½ cup Coconut milk
½ cup Coconut cream
2 quart Chicken stock
1 bunch 'Fever grass' (Lemon grass)
1 stick Cinnamon stick
2 piece Star anise
1 table spoon Crushed Cilantro seeds
8 oz Fish fillet and/or shrimps
Coconut oil to sauté
Habanero pepper to taste (Be careful)
Dice and Sauté the vegetables in a stock pot and let them simmer for about 10 minutes. They should become slightly browned.
Add the curry paste and spices and continue to simmer for 5 more minutes. Then add the flour and cook for 5 more minutes.
Pour in the liquids while stirring with a whisk; make sure all the lumps of the flour are gone.
Tie a bunch of the lemon grass and hang it like a teabag in the soup then add the cinnamon stick, star anise and crushed cilantro seeds. This is the time to add your habanero pepper if you prefer a spicy version of the soup.
Allow to boil for at least half and hour and then strain the broth.
Slice the fish fillet and shrimps in very thin slices and place them raw in 6 heated soup plates, pour the very hot soup on the fish and serve immediately.
Instead of the fish filet, chicken can be used, however it is advised to first grill the chicken. Do not use it raw.
This soup can be served with a bowl of rice as a complete meal, however most of the time we serve a smaller portion with some added vegetables as a starter in a multiple course menu.