Sautéed Red Snapped Fillet with Hibiscus and Wine Sauce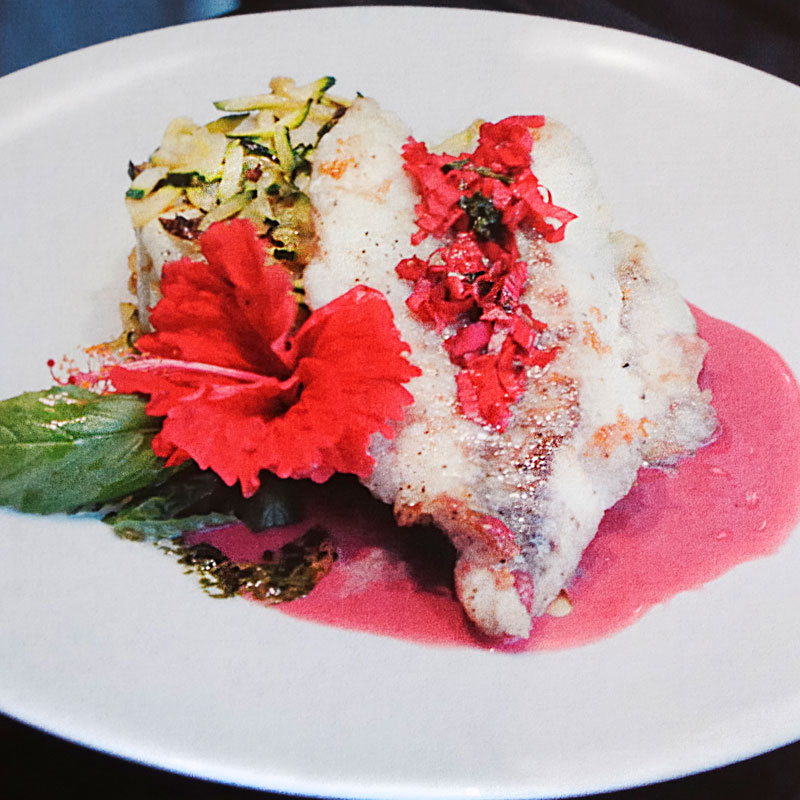 Course – Entree
Serves – 6 people
2 ½ – 3 lbs Fresh snapper fillet
1 cup Dry white wine
½ cup Water
3 tbsp Dried sorrel flowers
½ inch Fresh ginger
1 tbsp White sugar
2 tbsp Cornstarch
1 cup Fresh cream
2 cups White rice
½ inch Fresh ginger
1 each Star anise
3 cloves Garlic
3 each Bay leaves
4 oz Coconut milk
Small bowl of flour
Butter & oil to sauté
Salt & pepper to taste
Pour the wine into a sauce pot and add the sorrel flowers, ginger, and sugar.
Bring to a slow boil for about 20 minutes and remove the solids.
Reduce the liquid until you have about 1/2 cup liquid left. Mix cornstarch with some water and gently add this mixture, bit by bit, to the sauce until it starts to thicken, but is slightly runny.
Add the fresh cream and bring to a boil again for about 3 minutes. Season the sauce with salt and black pepper and a bit of sugar if the sauce is too tangy.
Cook the rice with the added ingredients as you are accustomed to.
Inspect your fish fillet well and remove any course trimmings and bone if needed.
Slice 6 nice portions out of the fillet, making sure not to cut the fish too thick.
Season the fish with salt and pepper and heat equal amounts of vegetable oil and butter in the skillet.
Dip the fish in the flour and shake off all excess flour. Only a thin coating of flour should be left.
Sauté the fish for about 2 minutes on each side until golden brown.
Serve the fish immediately, with the rice, a vegetable of your choice, and the sorrel sauce.