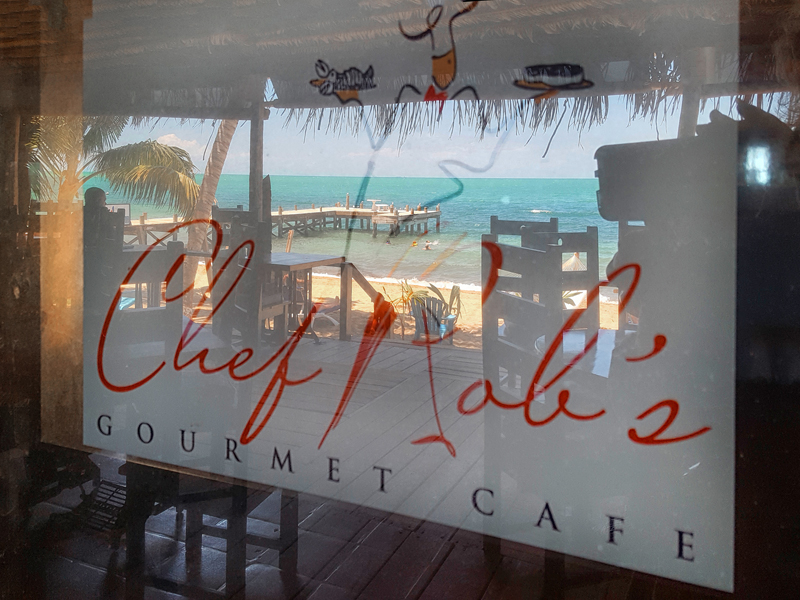 It was in the late eighties and early nineties that I worked on the Dutch ABC Islands:  Aruba, Bonaire and Curacao.
Born in the Netherlands; I worked as a chef all over Europe. Fate had already decided, that it was time to leave Europe and come and live in the Caribbean. 
At the time I was working in a large hotel as Executive Chef when one of my colleagues asked me to post his resume with some head-hunter sites. While posting his resume on my very first computer, a huge machine, almost bigger than my tiny chef's office, I posted my own resume just for the heck of it. I was very surprised to find an interview request in my inbox from Belize. I had no idea where on earth Belize was located and what to expect. However the name Belize kept on ringing in my ears and within a week I managed to schedule a 24 hour trip to Belize.
After I had landed at Phillip Goldson's International Airport and followed the curvy banks of the Belize River into Belize City, a strange feeling came over me. I was home!  I rushed through my job interview, signed some papers and called my wife from the 7th floor of the Fort George Hotel to tell her I found 7th heaven and she should order a shipping container and start packing! Fate had decided again!  We just had to come to Belize.
In the years I have been here, the feeling of being home has never left. I discovered and learned about the true beauty of Belize; the striking variety of its landscapes and ecosystems, the rich but sometimes troubling history. The variety of cultures, the wonderful people; everywhere you go you will find great people who know how to enjoy life and often have wonderful stories to tell and lessons to learn from. And of course, being a Chef, I learned about the food.
I would lie if I said I didn't struggle with the Belizean ingredients in the beginning, many of them were so very different from what I was used to. I had to go through a learning transition to appreciate the plethora of different flavours available. Many products in those days and even today are from a different standard to what I'm used to. But believe me when I say that Belize has wonderful products to work with!
When I see the local fishermen coming to my dock at Parrot Cove Lodge in their wobbly dory, I know they will bring me the freshest conch, lobster or fish the clean Caribbean Sea can provide. Nowhere else have I had better and fresher seafood than in Belize.
Whenever I see the fantastic vegetables and fruits provided to me by my vegetable suppliers I know they were harvested the same day and most of them were grown organically on small family run farms. Every time I get beef provided by my friends in Cayo, I know that the cattle were grazing on the fresh grass and herbs growing in their pastures and were not raised in a box while being pumped full of hormones just to get a better yield.  When I savour the pork, and I taste the rich ground and food the pigs were raised on, I know it is some of the best and juiciest I have ever eaten. And, the fruits! O.M.G. THE FRUITS! It makes such a difference in flavour to taste a sun ripened, mango, banana or orange, compared to the ones that will have to ripen in a shipping container and later found on display at large supermarkets.
Every self respecting chef needs of course his herb garden.  Belize's climate is perfect for a great variety of herbs and spices and everything will grow great as long as the iguanas don't see your garden as their personal salad bar. I think that one of the beauties of Belize is that many products are seasonal. We don't grow them artificially in climate controlled houses. We let Mother Nature decide the right time and what vegetables and fruits are good for us to eat at that precise season. No, we don't have avocados or mangos year round, but whenever they are in season they are full of flavour and nutrition. Yes, lobster is out of season in the middle of our tourist season, however we give these animals their quiet honeymoon period, so they give us great quality and flavour when it is time to harvest them again. Great things come to those who wait.
As a chef I have learnt from the different food cultures in Belize. I have mashed plantain for hudut with the delightful Garifuna ladies in Hopkins.  I learned how to cook, Black Relleno and Escabeche from an enchanting 'Spanish gal' from Orange walk. Deep down south I made corn tortillas from scratch and cooked them on the camal over a fire hearth, alongside a charming Maya lady. Cooking culture is like a language, it is always alive and new segments are added to it constantly by mixing with other cultures. Think about an ingredient like tomatoes. Interestingly the first tomatoes were brought from Central America to Italy about 3 centuries ago and now take a very prominent role in Italian cuisine. They came back to Belize in the form of pizza sauce or tomato ketchup. Similarly, this is how we add new ingredients to our Belize cuisine with foods like pittaya or buffalo meat. Both fairly new to our country.
I think it is really interesting to use the local cooking techniques, products, local produce and revitalise them on my stove. Belize's cuisine in the last decade has gone through tremendous changes, and is very much alive. Terrific things are happening in kitchens all over the country. Where eating and cooking in the past was often seen as a necessity to stay alive, or great cooking was reserved for special occasions, food now is cherished and people truly enjoy a wide variety of meals.
As a fairly young country, we are in the middle of the process of renewing our culinary identity. There are many talented young professionals incorporating their enthusiasm and skills with the traditional Belizean cooking and that often leads to great meals on your plate. For me, it feels great and utterly wonderful to be part of that journey; after all I am home….Come and enjoy great flavours with us in Belize!
Happy cooking, happy eating.
Rob